How technology is changing the classroom
Technology provides students with a range of learning tools and experiences in classrooms, from simulating environments to collaborative decision-making processes and developing 21st-century technical skills.
Homework assignments can also be easily accessible to students and teachers through this technology; teachers can post them on online platforms so students can access them from any location.
1. Interactive Whiteboards
Interactive whiteboards are an effective way of engaging students in classrooms. Teachers can use them to present lessons while students connect their iPads or Chromebooks directly to the board using a special pen, enabling them to manipulate what's on screen for greater collaboration and collaboration between teacher and pupil.
Whiteboards can also be used to display video clips and websites that make accessing information simpler for students. Furthermore, recording lessons allows them to review material later – this feature can especially benefit those who have missed classes due to illness or other circumstances.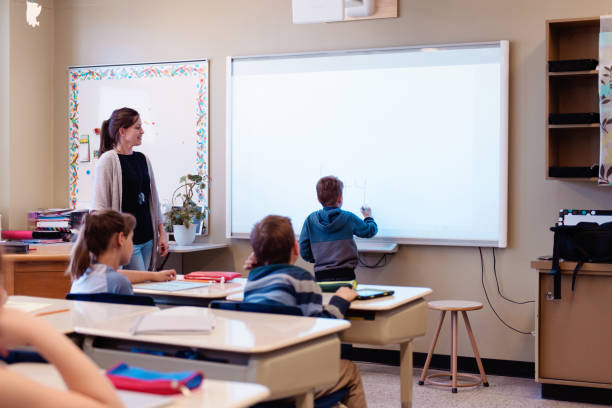 Interactive whiteboards provide another feature to increase student engagement: immediate feedback on answers provided. A teacher could, for instance, ask a question and display a graph with percentages illustrating correct responses as an instant way of showing students the value of their answers and motivating them to perform well in class.
Smart interactive whiteboards allow students to interact and manipulate a computer on screen, for instance by providing question-and-answer sessions or reinforcing applications like virtual applause that generate high engagement with students. While such applications can help boost classroom learning, their use should be utilized sparingly as it may divert focus away from essential classroom content.
However, although there are numerous advantages of implementing an interactive whiteboard in classrooms, its cost can sometimes act as a deterrent. An interactive whiteboard featuring LCD touchscreen displays and computer connectivity may require substantial investments that not all schools are willing to make.
2. Learning Management Systems
Learning management systems (LMSs) are technological tools used by educators to keep an eye on student progress, assignments and grades. A good LMS should offer multiple features designed to promote collaboration while accommodating various learning styles of its users.
An effective system can save schools time and money when printing coursework. By consolidating information in their LMS, they can eliminate physical records. Furthermore, educators can use it as a platform to upload additional resources or course material.
LMSs are also useful tools for providing instantaneous feedback on formative assignments, helping learners correct errors and enhance performance. Furthermore, LMSs are capable of recording video and audio conferences between teachers and students.
Teachers can utilize this platform to design custom assessments and assign homework with set due dates for completion, track student progress and share a class page with parents/guardians to keep everyone informed.
Another useful feature is the ability to seamlessly incorporate external resources into visually engaging classroom pages, giving students access to BrainPop videos about two-digit addition or their writing assignment without needing multiple logins or losing papers or forgetting passwords to different programs. This ensures they stay on task without the hassles associated with managing multiple logins for various programs and risks of losing papers or forgetting login details for various programs.
LMSs are often deployed on cloud-based servers, giving learners access to it from any location with internet connectivity. This makes budget management simpler for schools by eliminating expensive hardware needs; upgrades are also easily made to incorporate new features or address bugs; most vendors also offer annual subscription plans that could save schools significant sums in long run costs.
3. Virtual Reality
Virtual reality (VR) headsets have become a trendy gaming technology, but they also present unique opportunities to engage students in learning. By eliminating distractions such as audio and visual stimuli, VR enables them to fully immerse themselves in lessons while learning new information in an enjoyable manner. Given that students often have shorter attention spans and can quickly be diverted by other factors outside the classroom, VR can help keep students on task and focused.
Educational apps that use virtual reality enable students to view 360-degree images and explore virtual environments in a 360 degree view, providing students with an opportunity to travel virtually across cities around the globe while studying history from a new angle. Students can experience what it would be like walking through temples or museums and experiencing ancient Roman ruins for themselves first-hand.
Teachers can utilize virtual reality (VR) in classrooms to encourage their students to explore various concepts and make connections between them. VR also can help develop problem-solving skills by taking students through various scenarios that would not exist in reality.
Students are more motivated to learn when there's an incentive behind it, and VR can help students become engaged with topics that would otherwise be uninteresting or tedious. VR even lets them explore scientific subjects like cells by actually seeing them inside a human body instead of just reading about them in textbooks.
VR can have many uses in education, from computer programming to improving critical thinking skills. At Mearns Primary School in Scotland, students could use virtual reality headsets to explore their imagination by drawing wraparound landscapes they annotated using software like ThingLink before annotating on them with VR glasses.
4. Digital Presentations
Digital presentations can be an effective way to share information in classrooms. They can be integrated into face-to-face or hybrid lessons and offer various features designed to promote literacy, creativity and communication among students. Students using Sutori can create colorful slideshows and lessons featuring animations, videos and audio that engage them more deeply while teachers save these presentations as handouts for later reference or keep them accessible via learning platforms and mobile apps.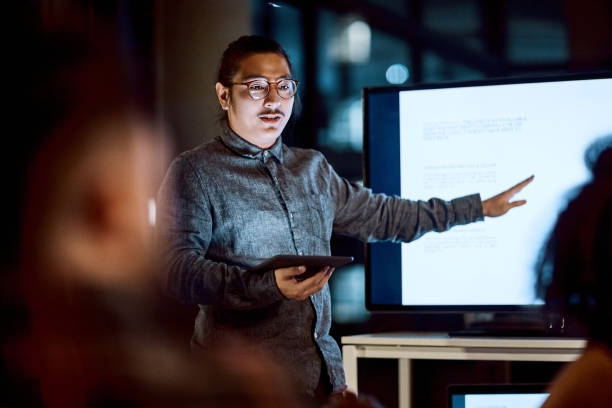 Interactive presentations can help keep students engaged by turning boring lectures into entertaining edutainment. Not only can this increase student retention, but it can also promote collaboration and foster critical thinking skills among participants. In addition, using tools such as Kahoot gives instantaneous feedback to learners so they can voice their understanding of a lesson more freely.
Digital presentations provide students who are uncomfortable speaking in front of peers with the chance to participate without feeling embarrassed by mistakes they might make or being judged by peers. Recording multiple times allows them to focus on content, intonation and organization – plus teachers have the opportunity to check in and give valuable feedback before live presentations take place!
Although technology in classrooms can enhance student engagement, it's essential to remember that not all learners learn at the same pace or manner. Technology provides access to resources and tools for all students regardless of individual abilities or limitations. Furthermore, this empowers them to take control over their own learning so they can use technology effectively to meet their own goals and aspirations.
5. Social Media
Many schools enforce phone-off policies, yet some educators are using social media tools such as Poll Everywhere, Mentimeter and Socrative to add some zest into classroom learning. Students can answer questions via their smartphones or tablets with these platforms providing educators with instantaneous feedback that allows them to adjust their teaching accordingly.
Other tools that facilitate quick collaboration and teamwork include Google Docs, which enable students to work on projects simultaneously; blog platforms where they can express their research or opinions; Canva, which encourages creativity with designs; and Skype for connecting with those from other countries and broadening perspectives of the world.
Teachers can utilize Facebook groups as another resource and discussion forum, for instance an English teacher could set up one related to Shakespeare's Macbeth and post articles or videos from reliable sources about this subject matter. Facebook can also serve as an effective way of keeping parents and students updated if there are events or field trips coming up they should know about.
Technology can be an empowering tool to prepare students for the future if the proper boundaries are set in place. Before introducing any digital tool into your classroom, make sure you are aware of both school and district policies regarding social media use as well as any projects planned that use such platforms. Also, always encourage face-to-face interaction by finding non-tech solutions to promote engagement amongst your pupils; ensure students always know who to turn to for technical support as well as how to stay safe online.